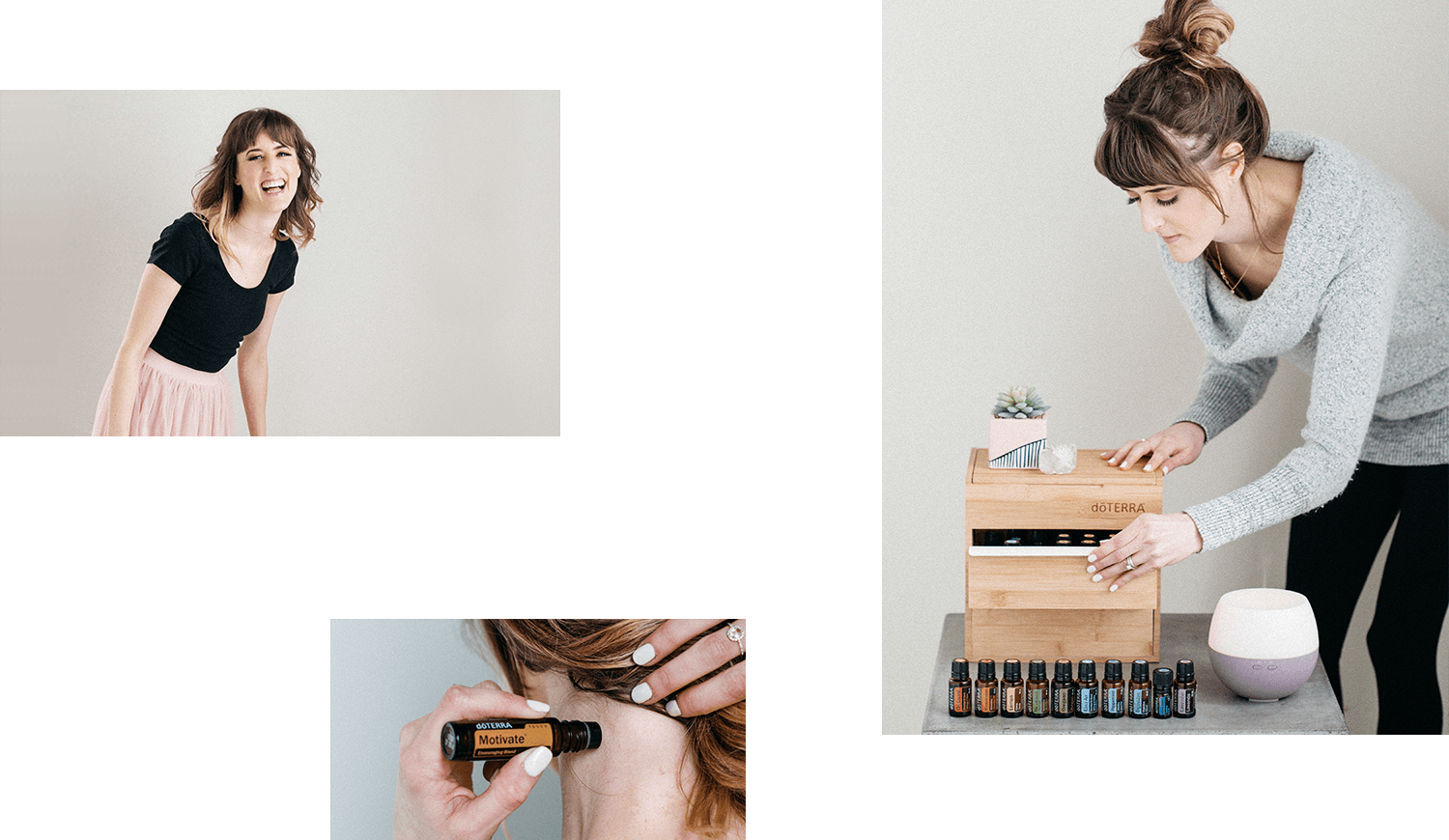 You're totally over your corporate job, with a boss hanging over your head (you like to dance to the beat of your own drum!). You don't feel appreciated or valued on a regular basis, and no matter how much you bust your butt or how many hours you work, you get the same old pay, and raises and bonuses only happen once or twice a year (and they're never in line with how much you feel you've put into your work … or even the cost of living).
 
You don't want to spend your life on the hamster wheel anymore, working more and more hours for more and more money .... all while wishing the craziness would just stop. You want to feel free, simplify your life and schedule, and get intentional with what and who you surround yourself with everyday. Screw designer shoes and a 5,000 square foot house! Time freedom is the new measure of wealth.
You have a deep desire to serve in a bigger way, and you just don't feel fulfilled with what you're doing now. Maybe you still have that (soul crushing) corporate job while secretly dreaming of owning your own business. Or maybe you already have your own business, and it's so not what you thought it would be: 1-1 work is draining, creating and launching online courses isn't making 6 figures while you work from a beach in Bali, admin tasks are bogging you down (are emails and invoicing the bane of your existence, too?), and those hours you thought you'd spend doing your dream work just seem to evaporate before your eyes.
 
You know that your were meant to be a leader, teaching and showing people how to achieve their full potential by going down the path first. Not to be egotistical, but you've always had a feeling that you were meant for great things, that you would lead a group of people somehow, and that you would leave the world a better place than when you came into it.
You know there's more, even if you don't know what that means just yet.
But you have a feeling it has to do with more energy, more lightness, more connection, more joy, and hanging out with a community of like-minded people who are designing their own lives by their own rules of what that quiet whisper inside of them wants more of.
What you're doing isn't working anymore.
So have you ever tried following that dream of more? Listening to those urgings in your heart that you were meant to blaze your own path, even if you don't know where that path is going to lead you yet?

What if I told you that you can have it all. You can work from your laptop while traveling around the world … or you can work from your comfy couch for 5 hours a day in your yoga pants and pick your kids up from school everyday.

You can grow a multiple 6-figure business, all while going to your fave lunchtime Barre class, getting a weekly massage, and not worrying while you get your lashes filled in the middle of the day.

You can evolve into a leader and help thousands of customers experience true healing at a level they've never had before, all while being in control of your own schedule and not burning yourself out working 60 hours a week.
Not being a slave to your alarm clock, having a relaxing breakfast with your family because you don't have to commute in rush-hour traffic, moving your body in the middle of the day ('cause you can), taking your time making dinner at night, and putting your kids to bed with enough energy leftover to really connect with them (that's when they share alllll their deep thoughts!).
Grow an amazing business without it consuming you in the process. What a concept, right?
I remember after I graduated as a Registered Holistic Nutritionist, all that I wanted to do was have my own business. I wasn't making any money at it, so my "real job" was at a bank … and I was miserable. So when I had my son, my husband and I decided that I wouldn't go back to corporate land and I'd make a real go at my nutrition business.
While I was happy with what I was doing, I wasn't really making much money (actually, I claimed a negative $20,000 income that first year full time). My husband kept asking when I'd be able to help with the bills (I couldn't), and frankly, because I didn't see much progress in my bank account even though I was trying SO hard, I felt like a failure.
Then I discovered doTERRA.
I initially bought some essential oils to help with my debilitating anxiety, and was dead set against the business opportunity. You see, doTERRA is a Network Marketing (NM) company, and I always thought that NM was icky and sketchy. More about that below.
But my friends and I were all sick (we had young kids bringing home alllll the germs from daycare), and my servant heart couldn't help but offer them some of these "oils" that I didn't even know would work. Well, they did. In fact, they worked amazingly better than anything else we had ever tried before. When they started asking questions about my new fangled oils, I decided it was more efficient to teach an essential oil class for all of my friends at once.
Picture you and 10 of your closest friends, cozied up in your living room, chatting about what essential oils are and learning how you could use them to solve 80% of your household problems (cleaning lady not included ;).
That's what we did that snowy and cold Sunday afternoon in November 2014. Nothing fancy or complicated, just simple, natural solutions.
During that class, I saw lights go on in my friends eyes about natural solutions that I've never seen before. Gone were the days of me blabbing on about eating gluten free or eating more greens to my friends and family who were suffering with health issues but didn't want to change anything. Using essential oils seemed so easy that they all started incorporating them into their lives with my help.
After years of struggling to share my message of health and wellness, I'd finally found a tool that people could get on board with.
Sharing wellness had never been so easy.
Since then our team has helped change the health of over 4,300 customers in 8 countries worldwide with the power of these 100% pure essential oils.
I'm a Diamond leader who has created my own multiple 6-figure income, but what feeds my soul even more is that I've helped other women leave their own soul-crushing jobs, support their household finances in a BIG way, all while changing the health and wellness of their families.
You can have all of this, too, with doTERRA.
"It wasn't until I embraced the doTERRA opportunity that my business took off."
I'm often asked about my thriving online holistic nutrition business - "how did you do it?". Truthfully, it wasn't until I embraced the business opportunity that doTERRA had to offer me that my business took off and grew into what it is today.
The doTERRA business opportunity allowed me to step into my role as a leader, connect with incredible women I wouldn't have connected with otherwise, and experience the freedom I was hoping for as an entrepreneur. Other than being able to create an even bigger impact on the world and support my clients in an even more empowering way, one of my most favourite things about integrating doTERRA into my business is knowing that there are no limits for me.
As I continue to grow, so will my business. And, to me, that is freedom.
- Meg Doll, RHN | doTERRA Gold Leader | www.megtherhn.com
You might already know that you want to grow your own doTERRA biz, or you might just be flirting with the idea. Either way, the first thing to do is to fall in love with their amazing oils and wellness products.
You can jump into the business right away or ease into it months from now, your pace and style is totally up to you, but step #1 is always getting these oils into your own house. Get started ASAP in the way that feels right to you below.
How do you know you'll succeed with a doTERRA business?
Just like anything else, there's no 100% guarantee of specific results within a certain time frame, but after 3 years in this business, there are definite traits in those who have dared to step into the life they've always dreamed of:
100%

Desire to serve

95%

You like people

70%

Can get out of your own way

0%

Huge social media following

85%

Resourcefulness

100%

Commitment

0%

Blonde hair & perfect skin
Side effects of using essential oils & starting a doTERRA biz includes:
Increased feelings of empowerment and control over the health of yourself and your family.

Glowing skin and energy, which might cause other people to stop and ask you what you've been doing that suddenly makes you like a beacon of light.

Better sleep, more stable moods, and laser-like focus, so whether it's showing up as a better wife and mother OR having the energy to grow your business, you're the safe harbour your whole family can count on to pour into them, because you know how to fill your cup first.
Self confidence that you are capable of living the life you always envisioned.

Growing a community of people who believe the same things that you do … so essentially built-in besties who've got your back just as much as you have theirs.

Increased need for sun protection, since you'll have the time and financial freedom to work from anywhere, anytime, instead of being chained to a cubicle 5 days a week.
While you'll bring your own strengths, our team has a kick-ass system to support you like no other.

We set you up so that the only way you can fail is if YOU decide to quit.

Our team has built a step-by-step system worthy of selling as an online program for thousands, but you get for free.
We strive to make sure that every single person who purchases essential oils from our team knows how to confidently start using their oils within days.
Here's what every customer has access to when they choose to get started with our team (yourself and your future customers included):

A welcome package sent via old fashioned snail mail (available worldwide!) that includes a Getting Started Guide (kind of like an Oil Bible) plus some extra doTERRA goodies to support you on your new journey.

A 2-week email education series with short videos on the basics of your oils and new yearly membership with doTERRA. Topics include diffusing, roller bottles, and a day-in-the-life of using your oils, to name a few.
An invitation to spend 30 minutes with me customizing your daily health plan using the oils and other wellness products you purchased. No cookie cutter plans here! You get customized advice from a Registered Holistic Nutritionist with 10 years experience of working with 1-1 clients.

Weekly online trainings, from the top 10 oils to supporting your stress and emotions, to help you get comfortable using your oils ASAP. They're only magic if you actually use them ;)
A super active Facebook group with monthly giveaways, live videos, and challenges to help you live your healthiest life possible.
That's for our customers, each and every one of them. When you decide to jump into the business, the support gets even better:
1-1 mentoring with me, a Diamond leader who has personally launched 15+ people to a part-time income, and 4 to full-time income replacement territory. FYI: our team includes almost 20 people who are approaching the full-time income rank, an additional 20 who are about to break through to that level in the next year, and 85+ who are making enough to pay for their regular wellness orders each month.
An online, go at your own pace Biz Building Program with 3 stages to help you go from launching your business to multiplying yourself with mentoring others. This program includes checklists, done-for-you scripts, professional produced video tutorials and trainings. This program is completely unique to our team. All business builders have access to this program, so you can immediately duplicate this with your own team without having to put in the dozens of hours of work that went into it.
Regular group mentoring programs focused on each rank to create massive action and accountability. Did we just run a rank program that you missed? No problem! Recordings and resources from each program are saved in their own hub for you to refer to forever and ever.
"Today I can look at my daughter, and she sees me happy + healthy, while helping others
- all because of doTERRA."
As I reflect on the past 3 short years with doTERRA, it truly was one of the best decisions of my life. I was working a regular 9-5 corporate job, and doing my personal training + yoga teaching on the side. My 9-5 was never fulfilling for me, I always wanted to help people but I just couldn't make enough money to make that happen. It was in my bones to do more in health/fitness and so I continued on.

I very quickly saw how this was REAL money, and that I might actually be able to do this as a REAL career. It's important to understand my motivation … I was working a lot of hours between my full-time job, my side business, and now also doTERRA. I really only had 5-10 hours to put towards my doterra business in the beginning. I was frustrated, because everyone around me told me to slow down, to give up my side-biz and be home more, to just be happy. I had a 'good' 9-5 job. I SHOULD be happy. I made 'good' money, I had 'good' hours, hell, I had a pension + benefits. I had so much more than most ... but I wasn't happy.
Every Monday morning was like a rock in my stomach as I drove to work, all because deep down I KNEW there had to be another way. One day truly shifted things: I was dropping my daughter off with my parents one Monday morning before I headed to the office ... I was already fighting back the tears + the knot in my stomach. Then my beautiful 4-year-old daughter looked at me and said "Don't cry at work today, Mommy.", and the last piece of me that was holding things together broke.

After that day, I put all my extra hours into my side-business. I was determined that next year, my daughter wouldn't go to daycare in the summer, she would be home with me. And we did just that. When I quit my job in May 2016, it was hard. I wasn't making my full income yet, but I trusted in the guidance of my mentors and I knew in the end it was simply up to me. A few months later I hit Gold, and then Platinum, and now I sit as a Diamond leader, one of the highest ranks in doTERRA.

This business is more than I could have ever asked for. This wasn't just my journey of my own health, or even the health of others, it became about the FREEDOM that I longed for.
I didn't want to ever have to ask for a raise or sit through a performance appraisal where others told me my worth.
This business started as that - a business. But with it, I have become a better mother, wife, friend, daughter, and so much more. I still have lots of work to do, but even my worst days in doTERRA are a million times better then my best days at the office. And the best part is - you don't have to do it on your own; while this business is in my control, Ashley was an amazing support, mentor and friend.
The business will truly bring out the BEST in you if you give it a chance. While this business isn't for everyone ... it can be for ANYONE. I was a small-town girl, no network, just a big heart + a lot of determination.

Today I can look at my daughter, and she sees me happy + healthy, while helping others - all because of doTERRA. There truly is no other company or opportunity like it.
- Jackie VanderLinden, RYT, PT, Health Coach | doTERRA Diamond Leader | www.holisticjackie.com
Know you're ready to get started right now?
You might be pondering using essential oils or even starting a business in partnership with me and doTERRA, or you might be ready to jump all in. Either way, you probably have some questions.
Scroll through the FAQ's below to see if I've already answered them, or I love to have Biz Opportunity call to help you answer your questions. Click here to book time with me.
This is an entire hour 1-1 with me, filled with your story, questions, and concerns without any pressure to buy anything. I'm looking for women who want to and are ready to work with me, so you'll always be in control of how you get started, when you get started, and follow your own plan that aligns with your goals and dreams. I'll just be there to guide you with my 3 years of experience in this business, and 10 years overall in the online and health practitioner world.
Click on the FAQ's below to cover the basics:
Do I need to purchase a minimum order?
Hells no, there's no requirement to spend thousands of dollars on your first oils collection! As long as you pay for a yearly membership, you are all set up to order oils and do the business. That being said, you need to love the oils to authentically share them, so of course you should purchase the starter kit that best fits you and your families needs. Click here to see our favourite starter kits and all directions on how to purchase.
Do I have to do regular monthly orders?
Yes. In order to receive commissions, you have to place a 100 PV order (PV = point value = about $1 US) each month through the Loyalty Rewards Program (LRP).

The LRP program is a customized monthly order with your personal products you need to build and maintain your own health. You purchase your wellness products, like doTERRA's 100% certified pure essential oils, life-changing LifeLong Vitality supplements (their #1 selling product), toothpaste, non-toxic skin care and cleaning products, and have them delivered to your house each month, and in exchange you get 10-30% points back to spend on more wellness products. It's like Air Miles on steroids.

Consider the costs of starting a traditional bricks-and-mortar business, where you have to spend thousands (or hundreds of thousands) on a building or office, inventory, furniture + accessories, and hired help. Spending $100 a month on products that you'd use anyways, like skincare, household cleaners, and toothpaste, feels like a steal!
Is doTERRA a "pyramid scheme"?
Don't laugh, it's a legitimate question! Sometime in the last 20 years, Network Marketing (NM) became synonymous with a pyramid scheme. While there are companies doing totally illegal and shady things, a pyramid scheme is where a company collects money but there's no actual product received by the customer. Since you're receiving essential oils and other wellness products with each order, by definition, doTERRA isn't a pyramid scheme.

This question has more to do with the prevailing feeling that NM is icky, and to be honest, I believed that for a long time, too. There weren't many people more jaded with the NM industry than I was when I first started using the oils. In fact, for the entire first year of my business, I still couldn't 'believe I was "doing network marketing". But over time, as I shared authentically and without being pushy, and as more and more customers thanked me for introducing them to this fabulous company, I started believing in this model of business more and more.

Today, the power of network marketing and residual income has allowed me to start taking care of myself, my body, and my family in a way that I've never been able to do before, and I'm eternally grateful.

doTERRA has amazing products that most of us can't help but want to share, and when you're sharing something that you 1,000% believe in, it never feels icky. That's why it's so important to start by using and loving the oils yourself! If you never believe in them, chances are you will never be truly successful with a doTERRA business.
How do you make money in doTERRA?
There are technically 5 ways of getting paid with doTERRA, which I'm not going to overload you with every single detail now (that just leads to analysis paralysis, right?).

That being said, there are a few things I want you to know:

-If I were to consider starting my doTERRA business all over again, I would want to read doTERRA's Build Guide. You can access this guide for free by clicking here.
-On Page 7 of the Build Guide, it shows you the 4 main ways of generating commissions with doTERRA, along with average amounts at each rank.
-doTERRA's full compensation plan can be found by clicking here. If it looks complicated, that's because it can be! Understanding the strengths of this plan will happen over your first few months as you start to navigate your doTERRA business.

To sum it up:

1 . Fast Start Bonus - This is the fastest path to cash when you're first starting! When you introduce anyone to doTERRA with a wholesale account (99% of customers choose to buy this way), you receive 20% commissions within a week of their purchase, along with 20% of anything else they purchase within their first 60 days of joining. As your customers decide to share these oils with their friends and family, you'll also get 10% of whatever they share, and another 5% when that network also expands. Click here for more info.

Benefits: This helps you become cash positive super quickly, and provides motivation and cash flow as the more stables parts of your commissions grow.

2 . Power of 3 Team Bonus - This bonus is rewarded to those who help others see the power of investing in their health on a regular basis. Bonuses from $50 US to $1,500 US per month are paid out when you help at least 3 people in setting up a monthly LRP order of at least 100 PV (about $100 US). Click here for more info.

Benefits: This helps you solidify positive cash flow when you're first starting, at least enough to cover your own personal monthly LRP orders required for commissions. Long-term, this helps you to build structurally towards higher ranks, leading to Leadership Bonuses.

3 . Unilevel Bonus - After 60 days, whenever a customer places an order, you'll be paid anywhere from 2-7% of those orders. This might not seem like a lot in the beginning (and it's not!), but as your customer numbers grow, this can turn into 2-7% of thousands of people's orders! This bonus takes longer to build, but it's also the most stable part of your monthly cheques. My first Unilevel Bonus was $13.38 US, and 3 years later it's now almost $6,000 US per month.

Benefits: This is your true residual income, and is representative of the number of customers on your team ordering on a regular basis. If you were to walk away from your business entirely but continue placing your qualifying orders for commissions, this bonus will remain stable for years, if not the rest of your life.

4 . Leadership Bonus - When you reach the rank of Silver and higher, you start getting paid extra bonuses! This bonus starts around $150 US per month at Silver, increasing to about $1,500 US per month at Platinum, and upwards of $3,000 US per month at Diamond.

Benefits: This bonus is paid only to those who have stepped up to becoming a true leader through consistent action. You are also rewarded extra bonuses when you help other people grow their own doTERRA businesses. In doTERRA, it's true when they say "a rising tide raises all ships". The more you help others grow their business, the more you get back in terms of team growth and commissions. How sweet is that?

Click here for some other FAQ's about the compensation plan.
How fast will I start making a profit?
This answer is different for everyone. Some people start fast out of the gates, and some are slower builds. Your pace and effort is entirely up to you!

The fastest way to earn commissions is with the Fast Start bonus, which you're eligible to be paid the week immediately after you start your doTERRA business! doTERRA knows that you don't want to wait forever to see results from your hard work, and that's what this bonus was designed for. This keeps you cash positive while the more stable parts of your commission (the Unilevel Bonus) grows and flourishes.

Don't worry if this all sounds like a foreign language. Rest assured that there are commissions in place to help you be profitable within weeks of starting.

I was a super fast builder in the beginning, and was profitable within a week of my first essential oils class, and I was cash positive in my first 2 months. How do I know this for sure? Because I'm a total spreadsheet nerd and have tracked my commissions every single month since I started back in 2014. I kid you not!

I know how much every single part of my cheque was for every single month from the very beginning. It's like a time machine!

I hit the rank of Premier in my second month of building, Silver the month after that, and Gold the month after that (psst: do these words make no sense to you? Check out the question on the real earning potential). I was Platinum 13 months after I started building.

In my first year of building my doTERRA business, my income totalled $17,105.31 US … and that was just the beginning. In my 2nd year of building, my income doubled to $38,987.52 US, and in year 3? It almost tripled, to $112,449.10 US. You would think that as a business matures, it would grow slower, right? As you can tell, my doTERRA business is only gaining momentum, and myself and my team are just getting started.

What would an income $10,000+ US mean to you a year from now? It's just months away from you. How about $30,000 US? $100,000? That's only a few years from now. The time is going to pass anyways, so why not spend it building a legacy?
What's the real earning potential?
Every few years, doTERRA releases their Earnings Disclosure which includes the average income at each rank. Click here to see their latest version.

Know that if you build your doTERRA business quickly, you might not achieve those averages at those specific ranks right away. Personally, I find that it takes about 6 months of staying at a particular rank to approach the doTERRA average.

I'm a very transparent person, and I already shared in Question #5 above my last 3 years of income from doTERRA. As a Diamond, I've had my first $20,000 income month ever (in Canadian dollars, which works out to approximately $15,000 US), so I can assure you that these numbers are not made up.
What's "residual income" and why is doTERRA's compensation plan better than other companies?
Oh, residual income: I've fought you my entire life, and now I love you more than words can say. What the heck does that even mean? Well, you have to understand my story and that I'm a workaholic. Ahem, a recovering workaholic. I used to think that to make more and more money, I'd have to work harder and harder. And harder.

Over the years, this has caused me nothing but heartache, total physical burnout, more than a few fights with my husband, and constantly rushing my son through life so that I could have a few extra minutes to answer messages on my phone. Typing that last sentence hurts.

I didn't feel worthy of abundance merely for being me, I thought that I had to earn it. And by earn it, I mean pay dearly for it with my sanity and presence. However, over the last few months this has all changed.

When my son started school this past September, he started saying how he was nervous and that his tummy hurt. Then he didn't want to get on the bus or see his friends. Some mornings he would have a meltdown, and not the "I'm not getting my own way", run of the mill tantrum. A heart-melting, gut wrenching, he truly is anxious about going to school meltdown. Getting him to school and wondering how he was doing became a daily worry.

We made sure he wasn't being bullied. We had a meeting with his teachers, who assured us that nothing had changed with his behaviour and that he was the happy go-lucky little boy that he's always been. So what was different?

What had changed was my attention and presence. After 10 years of working really hard, I couldn't ignore the fact that I had no life or self worth outside of my business. My son was my mirror showing me that something had to change.

This meant truly leaning into my doTERRA residual income that I had spend the last 3 years building. It also meant asking myself some questions like:

-What if I only worked 6 hours while Aleks was at school, instead of working 8 hours just because that's what everyone else does? Except Sweden, they just introduced the 6 hour work day. They know where it's at!
-What if I took a few days off in the middle of a random week to recharge my battery … and that actually helped my business because I was more focused on the other side?
-What if I was able to design my work days around when I'm most productive, doing the things that I'm most genius at, and hire someone to help me with the rest?

Essentially, reducing the number of hours I'm "working" (in the traditional sense), yet my business keeps growing.

That's the power of residual income.

Why can you do this in doTERRA and not many other companies? doTERRA has one of the highest retention rates in the network marketing industry, at 65%. This means that 65% of all your customers will still be buying from you on a regular basis a year from now.

The industry average is about 10-15%, which means that in doTERRA, you have 5 times the chance of creating customers for life, meaning people are 5 times more likely to continue purchasing from you. And 5 times the amount of repeat customers, compounded year over year, means that your Unilevel cheque (the most stable part, remember?) will continue to grow without having to hustle to find more and more new customers for eternity.

If you're ready to explore a new way of earning money, one that creates true wealth with time and financial freedom, doTERRA is one of the best ways to do it with the least amount of risk.
There are so many essential oil companies who say they're the best. How is doTERRA any different?
Now this is a topic that I could go on forever about and get sort of ranty. Yes, I'm that passionate about it. So here's my two cents on why doTERRA is the ultimate vehicle to a level of health and financial abundance that you never thought possible:

1 . Quality: doTERRA is the ONLY essential oil in the world who does testing on every single batch of essential oils that is sold AND chooses to share that testing with everyone in the world. For instance, if you click here to go to their Source to You website and enter the lot number for my latest bottle of Tea Tree (aka Melaleuca) as 162658A, you will see that it has been verified by a 3rd party lab as being pure with no chemical adulteration or contamination. Click on the "Test Results" image if you can't see the GCMS results.

Many other companies will say that they are transparent with testing, but when you click on their reports, they are usually from a few years ago and from 1-2 batches.

doTERRA is the only company in the world who releases the testing for all their batches, and this is why research universities and hospitals (Duke University and Johns Hopkins University Hospital in particular) have chosen to partner with doTERRA. When doing scientific studies that are going to be submitted to journals for publication, it's imperative that you control everything in the lab as to show that the results are do to a certain mechanism, and no with impurities or changes in the input.

I'm the sort of person who looks up all my personal care products on the Environmental Working Group Skin Deep Database and does my own research on things I'm going to use on my family and recommend in my business. My health and reputation depends on this! doTERRA is the only essential oils company who is transparent enough to the public that I can recommend.

2 . Sourcing: doTERRA chooses to source their raw plant materials from the areas of the world where that plant grows best worldwide. When you take a plant out of its native environment, you change the compounds that plant produces in response to its environment, and these are the compounds that make up the essential oil.

For example, doTERRA could easily source their lemons from Mexico, central America, or even the US, but they choose to source their lemons (and bergamot, FYI) from Sicily, which is where some of the oldest lemon trees grow in the world.

Their Tea Tree is sourced in Australia from the original farm where all modern cultivated Tea Tree plants were propagated from.

The farmers are usually multi-generational farmers of that particular plant, and know their soil, climate, and plants intimately.

In some circumstances, doTERRA has introduced essential oil product back into a region where it's no longer being done due to economic reasons, like with their Petitgrain production in Paraguay, along with their decision to move their Lavender production in Bulgaria along with their roman chamomile and Melissa.

Click here for a video on Petitgrain and how doTERRA is working to revive a collapsed industry for these rural farmers.

Click here for a video on Lemon and Bergamot.

As a Holistic Nutritionist, I know that where you get your plants from matters. Eating an apple from Chile is not the same as eating a local apple that was picked a few days ago. The nutrients are different, and the beneficial compounds are different.

With doTERRA, I feel like I'm using the equivalent of local and organic produce that has been distilled into an essential oil.

3 . Philanthropic work: This is an extension of the way doTERRA chooses to source their products, with over half of their oils coming from developing countries. These farmers, in a lot of cases, don't have running water (sometimes walking up to 3 hours one way for drinkable water), medical clinics, or schools.

In some of these countries, women are deemed less-than-worthy because of their monthly cycles, and are shamed in their communities and not allowed to continue with their schooling.

doTERRA's Healing Hands works directly with their farmers to help them have access to basic needs that you and I take for granted, and help them build basic infrastructure that is life changing.

In Nepal, the earthquake of 2015 was devastating. Of the 3 schools that have been rebuilt in 2 years, doTERRA has built 2 of them (and they are earthquake related in case it happens again).

In Somalia at this time, they are experiencing a horrible drought that is killing their main export: goats. Their 2nd biggest export is frankincense, of which doTERRA controls 80% of. doTERRA has put a stop to harvesting of frankincense for the next 2 years to let the trees rest (or else they might die due to overharvesting when they're already stressed from drought), but doTERRA is continuing to pay these farmers for the next 2 years, or else they wouldn't survive.

4 . Culture and Executives: doTERRA's executives came to the company with many years and/or decades of experience in either the essential oils science side and/or the business side of network marketing. There are 7 founding executives who work as a team to make decisions that are best for the company and their mission to improve the health of their customers, but also to leave a healthy and lasting mark on the communities that they source their oils from.

If you Google doTERRA's executives, you will find that they have won State and National awards for their work, while they were at doTERRA and before they joined.

doTERRA will never tear down another company, in fact, they have asked several other labs to take down testing from other companies that showed they adulterated their oils, for the sake of the industry as a whole.

Our wellness advocates and customers stand in the confidence of doTERRA's products without having to resort to attacks, smear campaigns, or litigation.

In the business, we all work together across multiple teams to lift the company as a whole, and competition is very rare.

In closing, I've never come across a company with such heart. I was VERY skeptical when I first joined doTERRA (I said that I would never do the business) and looked at them with a fine-toothed comb. I would never trust my essential oils to another company, in terms of what they do for this planet, the global economy and sustainability, and my mission as a Holistic Nutritionist to help make our world a healthier place.
Ready to take the leap?
Don't let your fear do the talking.
P.S. You're never going to feel 100% ready to start this journey. No one else can decide that for you, but what I can promise you is that you'll be supported every step of the way if you commit to showing up, even if you only move forward a tiny little bit everyday. Forward progress is still progress!